just talking
For those of you that do not know, I live in Indiana. We had a bit *cough* of a winter ice storm. It has left me, my husband, and even my dogs completely lethargic.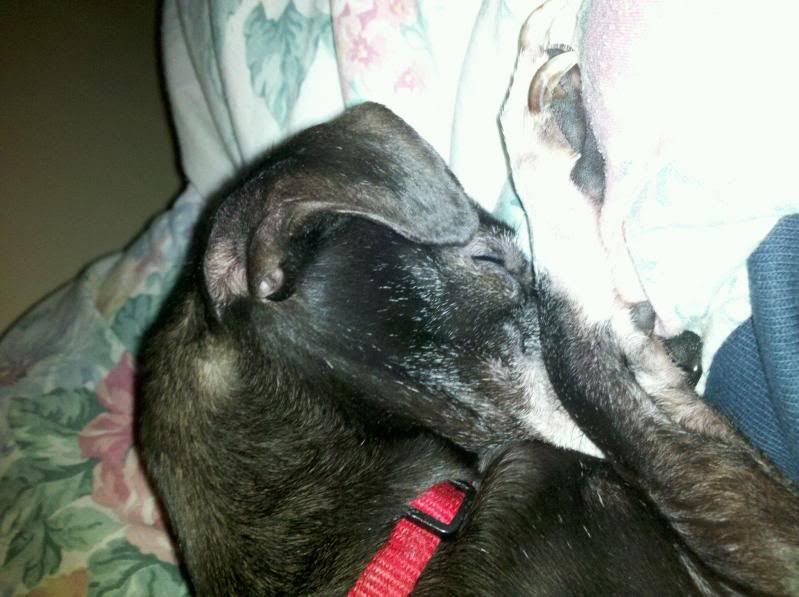 I poked her with a stick after taking this shot. She grunted and rolled over




I have had the same twists in my hair for a while now, and while watching Battlestar Galactica, I took them down. The plan was to hop in the shower, co-wash my hair, moisturize and retwist my hair.  I got it untwisted...then old man lethargy set in.
I haven't done a thing to my hair in two days. It is driving me nuts, but i cant seem to, get up and go. Today is the first normal day I have had. The hubs is gone, the dogs are fighting, and I am in front of the computer working on programming homework  writing this entry. I will get the hair done. I WILL FIGHT OLD MAN LETHARGY WITH A STICK, A TANGLE TEEZER, AND MY LIFE!!!
In addition to the contest that I have going on, Naturally Curly is having a 14 day Curl Love giveaway. Check it out!
Today is such a blah day. It is straight gloomy out. When I took the dogs out I could see my breath in the air. Not cool. The dogs two yards down are stuck outside and it is getting ready to rain and that just tugs at my heart strings. I have no clue what to do about it.
My hair is growing like a weed! I love it. It feels like, as far as my looks are concerned, I am coming into my own. I found a hair solution for me that I like and can actually take care of my hair without having to shell out hundreds of dollars a year for relaxers, deep conditioning treatments, etc.
My husband LOVE running his fingers through my hair, and helping me to detangle as well. How did I get so lucky?
I have ham and bean soup cooking in the crockpot and I am thinking of starting a fire in the fireplace, watch a movie and work on my niece's Christmas present. I also could start making cards again.
Hope everyone is staying warm!!