pookalitas
Editors note: While this review is all of my own and my beliefs about the product, Pooka was nice enough to send me a sample of their product.


So, when my sample of Pooka Pure and Simple came in the mail, the mailman actually delivered it to my door. Our mailman is kind of lazy and will cram any package he can into the mailbox, so he doesn't have to get out of his truck, so this was a surprise.
Turns out, it wasn't because he was being nice. We have three cars. Two are kept in the garage. One is on the outside of the garage. We live in a cul de sac, and don't have the room to park that other car out on the side or anything. So that it is easy for Jeff to get out of the driveway, we park the other car at the tail end of the driveway. The bumper juts out into the cul de sac just a touch. Well, it sort of interfered with the mailman getting by and he wanted to know why it was parked like that. I explained it to him and just looked at me like i was stupid. Lazy Mailman.
Anyway, he handed me my package, and the first thing I noticed was the package had a scent. The package itself smelled.. wonderful. It was floral and uplifting and I just wanted to sit there and sniff my package. I opened it up and there were fake flower petals in it, which were delivering the scent. The actual box sat on the ledge near the door for a couple of weeks, so the air was scented. I loved it! I found that the Pooka Girls had sent me this: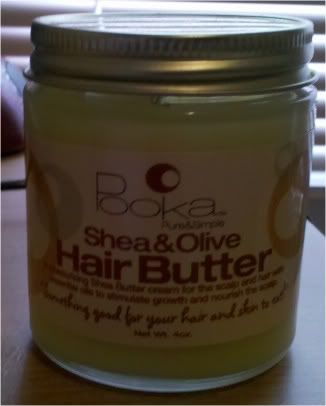 Before I talk about the product, lets talk a little about Pooka Pure and Simple. Pooka was an interesting name, and I was tickled pink to find out it was a family nick name! 
(From the website)
The name Pooka actually came from my mom.
She always calls her children her "Pookalitas"
(We still haven't figured out why or what it meant but it was definitely a term of endearment!)
When thinking of a name for the company, that was the first thing that came to mind. Pookalitas was a little too long for the labels, so we just shortened it a bit and came up with....POOKA!
The story of the Pookalitas itself is interesting. It sort of comes from the old adage "necessity is the mother of invention."
With Dawn Fitch, founder and creator– POOKA became a lifelong pursuit when she became mysteriously ill. After numerous visits to doctors and specialists and no sound diagnosis she began to explore alternative therapies, it was here her interest in aromatherapy and its healing and relaxing attributes was born.
She began reading the ingredients of EVERYTHING and became painfully aware of just how much of what we consume is saturated with unhealthy, unnatural ingredients. In an effort to combat illness and stress and the realization that so much of what goes into the body is not good for you, she changed her entire health regime.
Combining her love for aromatherapy and the need to take better care of herself inside and out she began creating her own bath and body products. Just for fun, she took a few of her hand made products to sell at a local festival and sold out! The response was tremendous. That's when the realization hit that she had an incredible business idea and Pooka was born! 
She knew she couldn't achieve her Pooka dream alone so she enlisted the help of those closest and dearest to her. Together she and her girlfriends formed Pooka Pure & Simple and today the 4 Pookalitas manage every aspect of Pooka from sales and marketing to finance.
With all this in mind I started testing the product. The first thing I always check for is the smell. I LOVE the smell of this. It kind of smells woodsy. Kind of like a pine tree to me. My husband however, did not like it. He can kick rocks though, I enjoyed it. 
One of the main problems I have with Shea Butter products is the spreadability (I know, it is not a word, deal with it! lol). It seems as if you are sitting there for hours trying to melt the product in your hands unless it is whipped. Pooka's product is spreadable right out of the jar. I wonder if it because of the additional oils added. 
It goes on easy and is well absorbed into my hair. My hair feels thoroughly moisturized with it in. This is a product that I do have to apply daily, but I am okay with that. It is thick enough to be used in twists, twistouts, and any other styles that require major moisture. I would recommend Pooka Shea and Olive butter as a great heavy duty moisturizer.
The ingredients are (listed most to least): Shea butter, olive oil, rosemary oil, and lavender oil.
This product can also be used as a moisturizer for your body. I did try it as a moisturizer, but my husband complained about the scent again. So I had to cease and desist on the body 
moisturizing
.