Product Review- Kyah Alexandria Shampoo & Shower Bar.
One of my natural hair idols is Chary Jay. She has a channel on YouTube that I subscribe to. She did a product review on several things on Kyah Alexandria's line, but this bar stuck out the most to me. She said something along the lines of "it made my hair feel like it had lotion in it." I am always looking for a product (shampoo especially) to put moisture back into my hair, so I scooped this up along with a leave in conditioner (to be reviewed at a later date).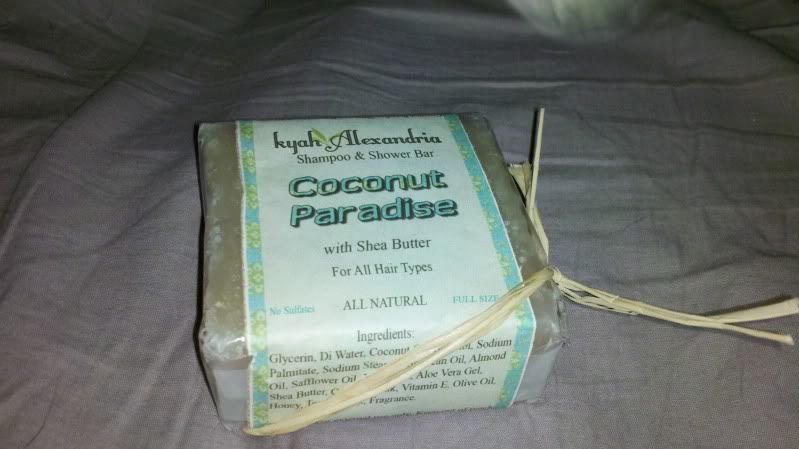 The packaging.
What the packaging says: Kyah Alexandria Shampoo & Shower Bar- Coconut Paradise with Shea butter for all hair types. Full size All Natural.
Ingredients: Glycerin, Di (deionized) water, Coconut Oil, Sorbitol, Sodium Palmitate, Sodium Stearate, Soybean Oil, Almond Oil, Safflower Oil, Jojoba Oil, Aloe Vera Gel, Shea Butter, Coconut Milk, Vitamin E, Olive Oil, Honey, Tea Tree Oil, Fragrance.
When I watched the initial review of this product, Chary Jay was able to break the bar with her hands. When I received mine in the mail, there was a note in there, stating that because it is getting hotter out, they have added an additional ingredient (jojoba oil I think) to make it more solid, so that it does not melt in the mail. So I had to use scissors to cut a piece off.
It' wasn't difficult at all.
The Smell: I really enjoyed the smell of this product. You get the coconut smell, which isn't overpowering at all, and then you get a sweet floral undertone. I held out the chunk I had cut off for my husband to sniff and to get his opinion on it. His response? "It smells sort of like a coconut candy." The smell was really pleasing
Initial Tryout: I scrubbed my hair with the product, it doesn't create a massive lather, and that is okay for me. I washed my hair and rinsed it out and paused for a moment before dumping conditioner on my hair. I felt my hair. It felt incredibly moisturized. It does feel like there is some sort of lotion on your hair. it is amazing. I love it.
Further Testing: With further testing I realized that it is easier to slice the bar using the scissors with a knife like motion instead of sawing. Also, while my hair luxuriates in the feel of this shampoo, the shampoo combined with conditioner, combined with the rest of my product line up equates product buildup rather quickly. I can use it about 2 or three times before I need to reach for a clarifying shampoo.
Bottom Line: I really liked how this shampoo made my hair feel. It was soft and manageable. I can't wait to see how the rest of this product line feels!
Where you can purchase: http://mynaturalcare.com/index.html