Welcome Wednesday- Product Edition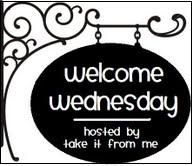 1. 

Follow the Welcome Wednesday Host (Take It From Me)

as well as the 2 Spotlighted Blogs of the Week. (These will make up the top three slots on the Linky)
2.

 

Link up your blog name and URL

 with our Linky. (You only need to add your info once for it to be seen on all the blog hops)
3. 

Grab our Welcome Wednesday button

 and include it in a post about the event on your blog.
4. Go to as many blogs on the MckLinky as you want and Follow them. Be sure to 

tell them you are from Welcome Wednesday!


5. Be sure to Follow back any followers you have gained from our Welcome Wednesday event!
In my most recent blog post I told you about purchasing products and helping out a great cause. Well because I have been swimming, my hair hasn't been feeling the greatest. My husband doesn't notice a difference when he touches it, but I do. I decided to try out some of the products That Shonika and Rashida sent me, to see if it would help the situation.
The two I used in this instance are Darcy's Botanicals Vanilla Delight Leave-in Condtioner and Qhemet Biologics Amla and Olive heavy cream.
Using both of these my hair feels exactly like it did before I took up swimming. My hair is soft and managable. Before their fundraiser ends in November, I will probably purchase a few more samples of both so that I don't run out too fast. After that it looks like I will be purchasing the full price stuff. 
Thanks Shonika and Rashida for getting me interested in new products!